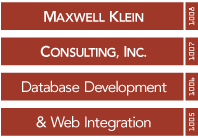 FILEMAKER, LASSO, MYSQL, PHP, and WEBSITE HOSTING:

Sometimes a web solution requires it's very own server, or a whole cluster of servers, and can justify the time, expense, and sophistication required. Some web sites run just fine on a server that's sharing system resources with hundreds or thousands of other websites.

These are two extremes and cover a broad spectrum in price and performance. It has been my experience that many solutions fall between these extremes. A dedicated server is cost prohibitive, but the solution is none-the-less vital to a company's operations and cannot be in an environment where it competes for resources on a shared server, where the load of other websites is unknown and there is little or no access when problems arise.

This is what prompted me to deploy a state-of-the-art server to host my client's solutions and I can be more flexible with customizations than a hosting company with shared servers. I'm also very selective about what solutions are hosted, keeping close attention to the resources each is using, and adding capacity when needed.

It was not to compete with the run-of-the-mill $4.99 per month hosting service, nor to charge clients exorbitant fees for a niche hosting environment. It was done to provide more complete development services and distribute the cost of running a dedicated server amongst clients who require this mid-level service and benefit from solutions that fast, stable, secure and at a reasonable price. We also have access to the server's core configurations that would otherwise be unavailable or too costly to implement. Additionally, I can turn up a new website or service within an hour of the request, host a solution temporarily, or provide a shared environment during development.

The servers ar monitored 24/7 by three independent monitoring services that automatically send alerts at the first sign of problems. Clients get an emergency text messaging address if they suspect issues with their website or database hosting.